Okedoke, Plans were first set forth for this gun in 2014....We approached a skilled Metal Craftsman to cut our metal, and weld up a new All Steel Fifty Caliber Replica that would beat them all. We succeded. Below is a picture of the first Reciever, known here as Prototype "A"...Already you can see the detail, and the thickness of the American Steel used....Yes, that's 3/16th...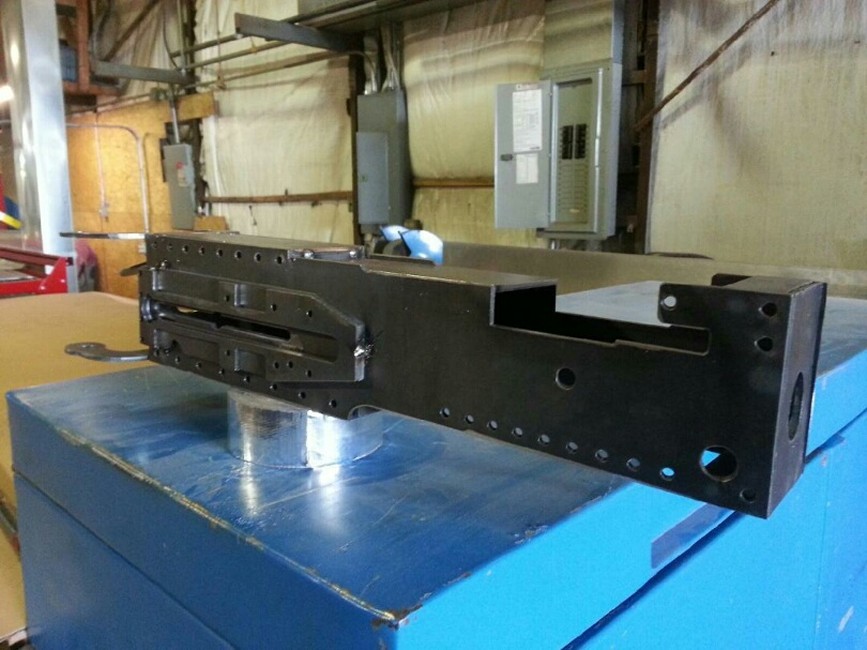 (Above) PROTOTYPE A
Prototype "B" (Pictured Below) was the first production model of our new fifty caliber, and it was a great hit! The Charging Handle would slide, but was not spring loaded, and the interior detail was excellent, although no extractor.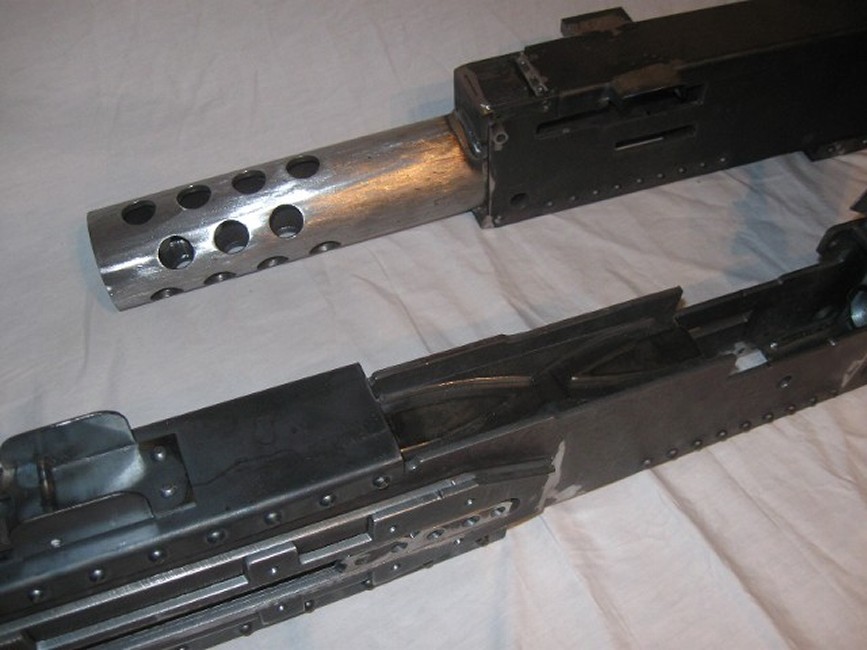 (Above) PROTOTYPE B
Prototype "C" Pictured Below, featured improved details in the interior, the addition of an extractor to hold dummy ammo, barrel and muzzle design improvements, and a spring loaded 2-stage charging Handle...Pawl Brackets and Bullet Stops were also added.....This Model was EXCELLENT, AMAZING!, and to be our final production model......Well,.... That's what we thought.....Halfway through production on the Prototype "C" version we switched to a new barrel support design. Opening the holes from one inch to 1.25 inches and adjusting the spacing rearward accordingly....The Series "C" gun pictured below features the early small hole design...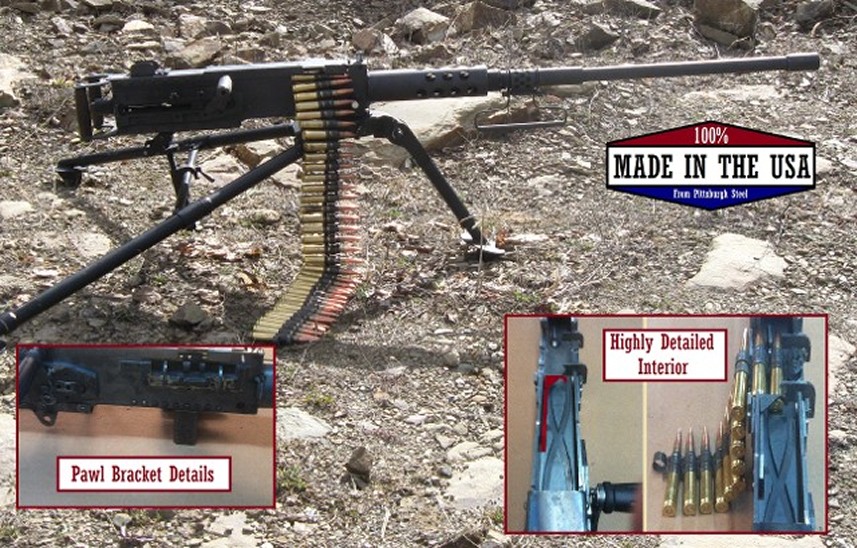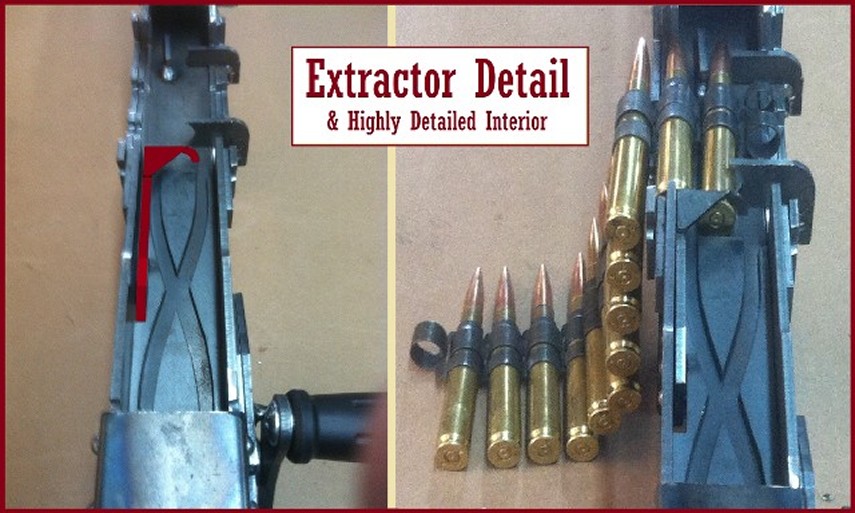 PROTOTYPE C ADDED DETAILS
---
CHECK OUT THE NEW MODEL BELOW!!!
PICTURED BELOW IS OUR NEW MODEL, PROTOTYPE "G"........A re-design of some of the visual aspects of the gun include: A streamlined more correct Buffer Tube, a More Correct Shaped Spade Grip shape, the addition of more defined charging handle arm detail, correct style hole placement on the reciever, a more correct rivet pattern on the forward portion of the reciever, a beefed up rear sight unit with the addition of a more detailed peep sight option, a more correct charging handle slider and arm stop, still retaining the 2 stage spring action...better interior detail, and a better looking/stronger top cover design....As mentioned, we thought prototype "C" was the final production, but rust never sleeps, and apparently, neither does our metal guy.....Kudos to his tireless efforts to make improvements to an already excellent design...NOTE: The Larger holes on the Barrel Support on Series "G". It's only 1/4 inch larger, that's only 1/8 on each side of the hole!...but the difference in visual aestetic is a noticable improvement. The Gun in the pic below is shown with three options: The upgraded rear sight option; The upgraded top cover option; and the M3 Tripod.....These options will be listed on the M2 Browning Shop......The Top Cover "Button" option, and the rear sight upgrade are both inexpensive, and excellent.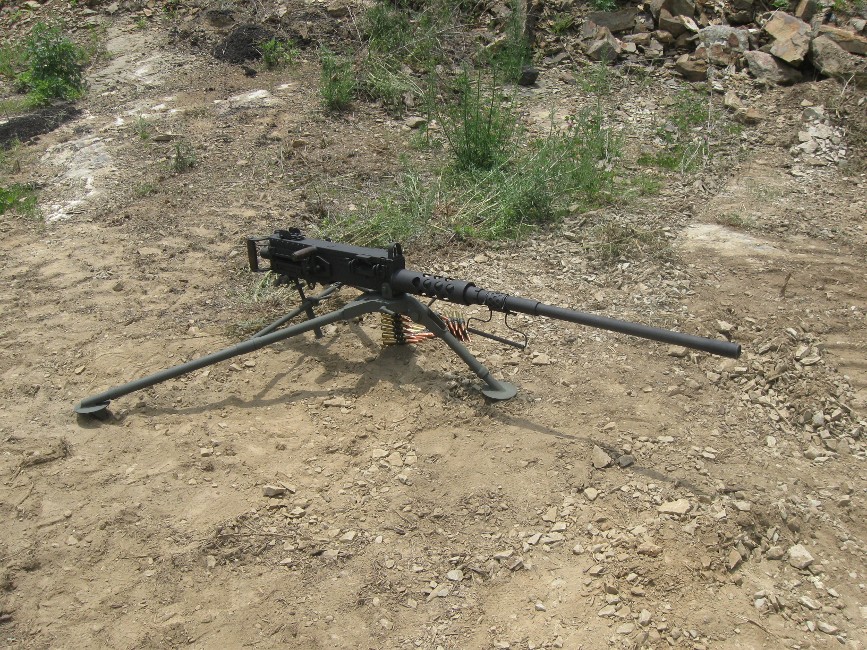 RGC's New M2HB Series "G" at an undisclosed location in Afghaniraq......Nah, just Pennsylvania, USA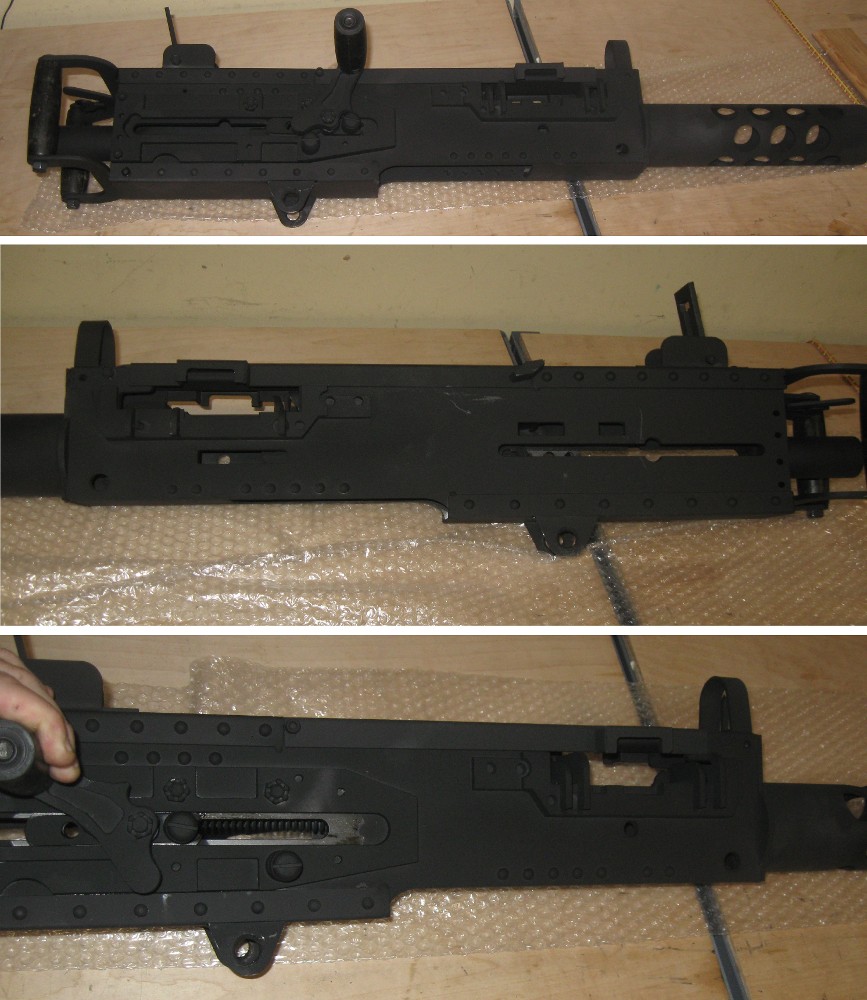 Okedoke, The Heart and Soul of any Replica M2HB is the Right Side Plate, and Charging Handle. OUR Replica M2HB has a Highly Detailed Reciever with Dual Stage Spring Loaded Charging Handle....Also, a Correct Rivet pattern, and proper Castle Nuts for an absolutely convincing appearance. Note the depth of the cutouts on the Charging Handle Plate, and even the charger arm itself! Above are Some Close Up Pics of the Right and Left Side Plate, as well as the Dual Stage Spring Loaded Charging Handle Retracted.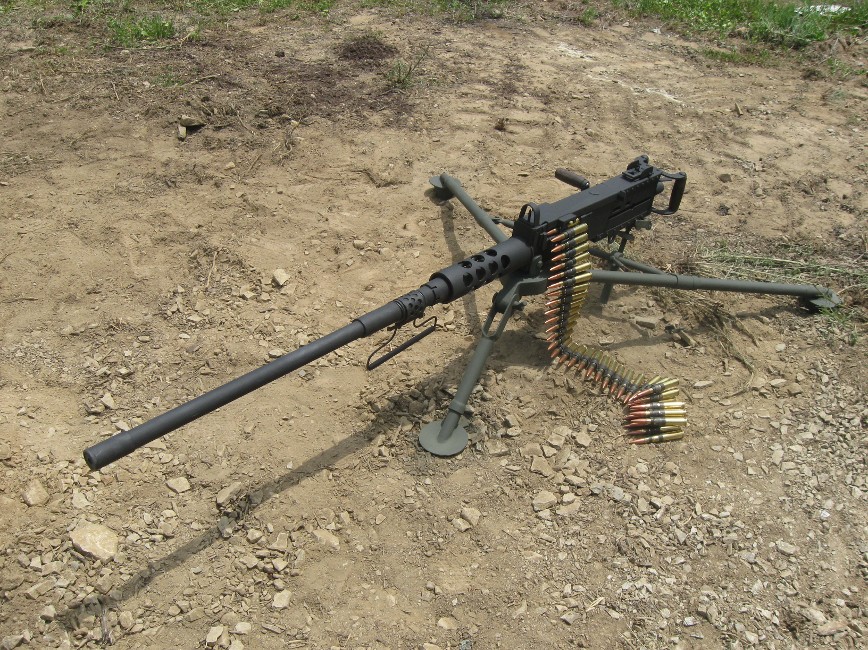 ALL STEEL Construction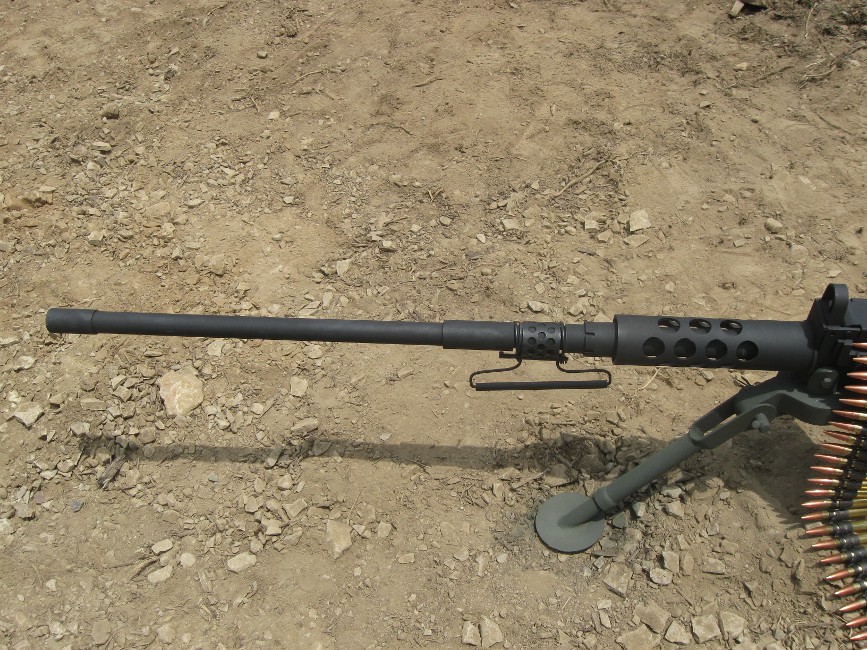 Standard M2HB Barrel Handles (Not Included) Fit Perfectly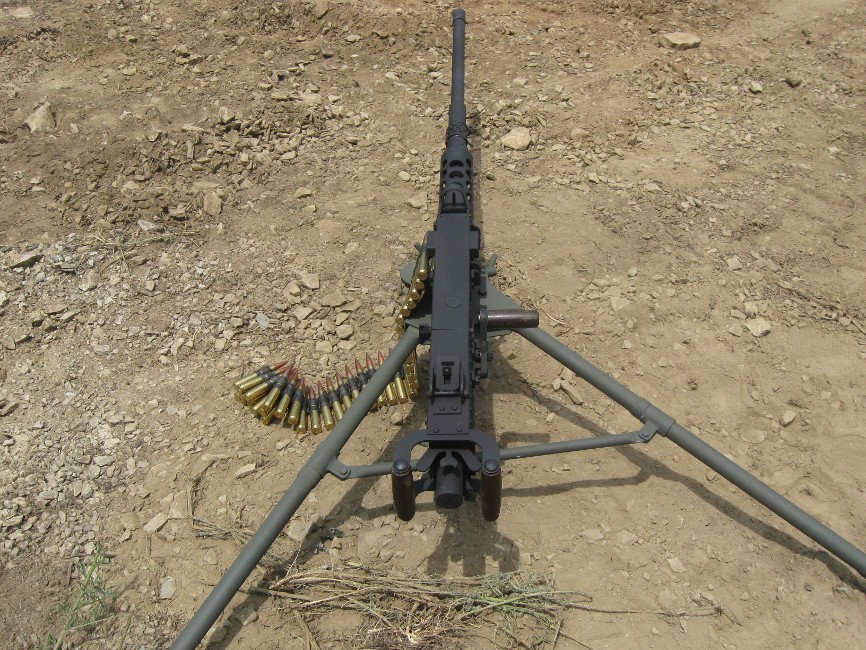 Where Every American Man Wants To Be...Behind a Belt Fed Fifty Caliber Machine Gun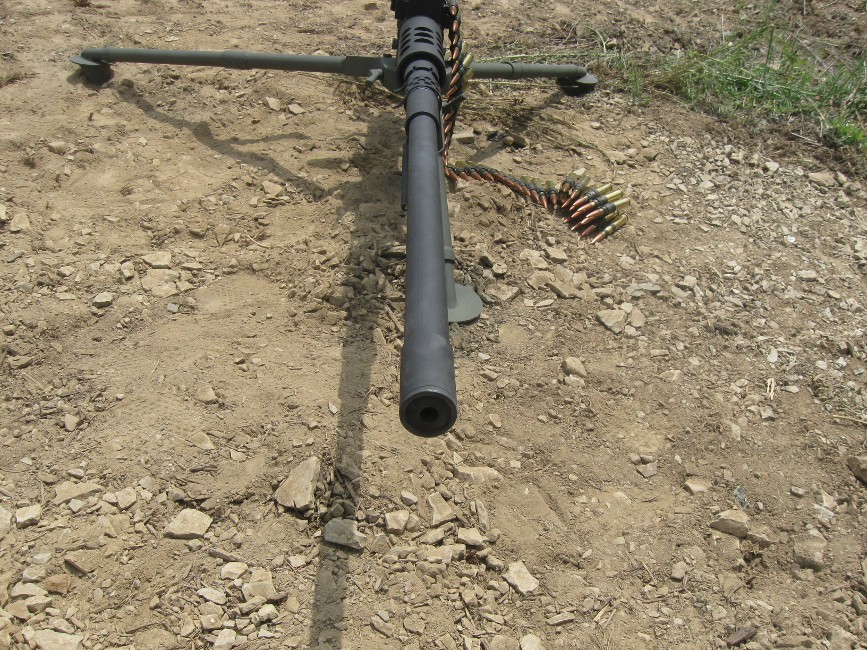 Close Up of the One Half Inch, .50 Caliber Bore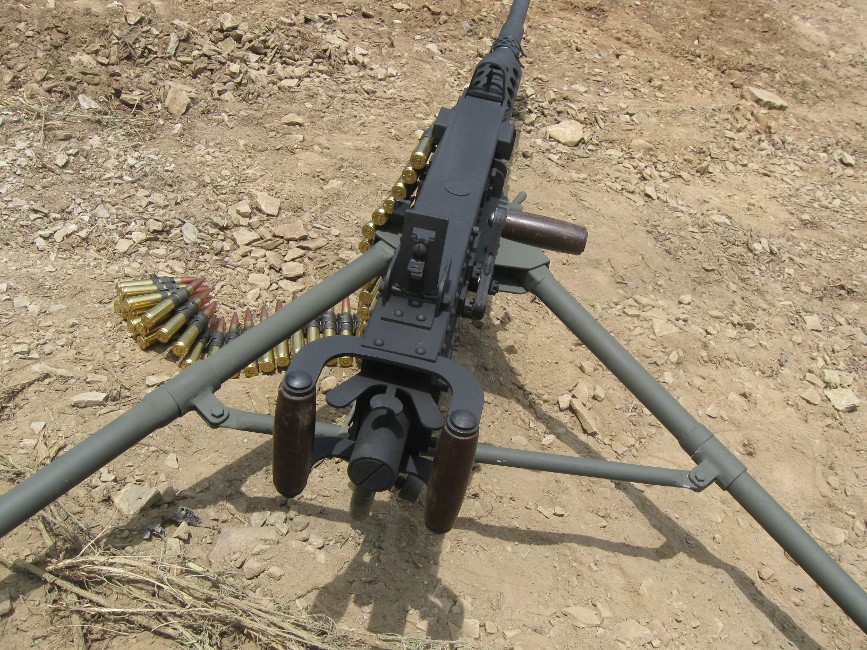 Rear Sight in the "Up" Position, Shown With Optional Peep Sight Insert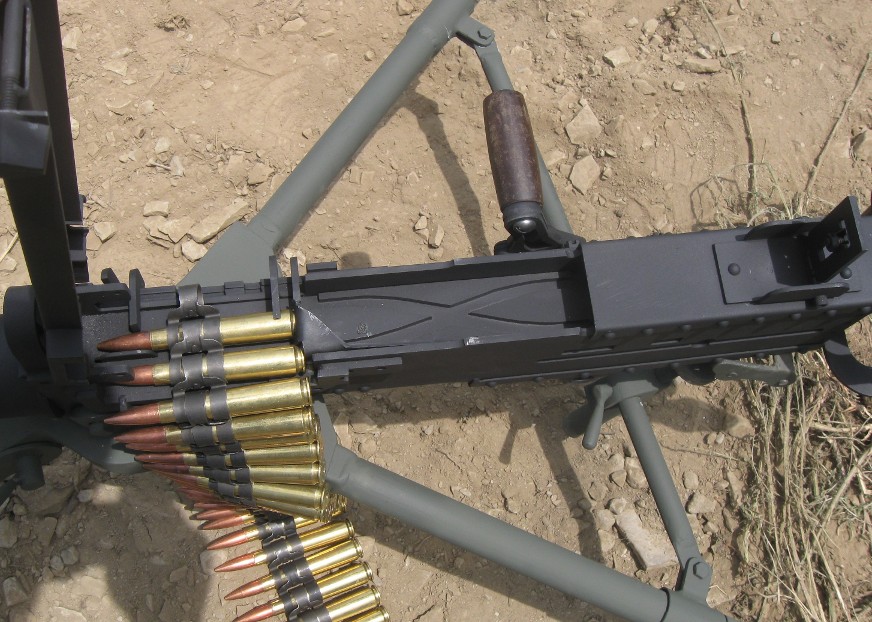 TERRIFIC Interior Detail of the RGC M2HB Replica!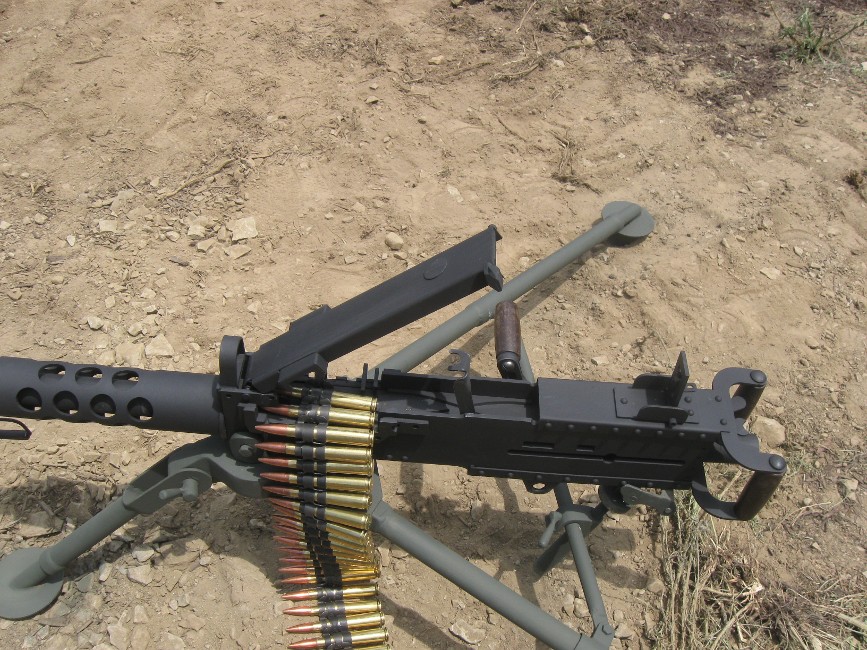 Ammo Belts Held in Place by a Movable Extractor, Shown in the "Loading" Position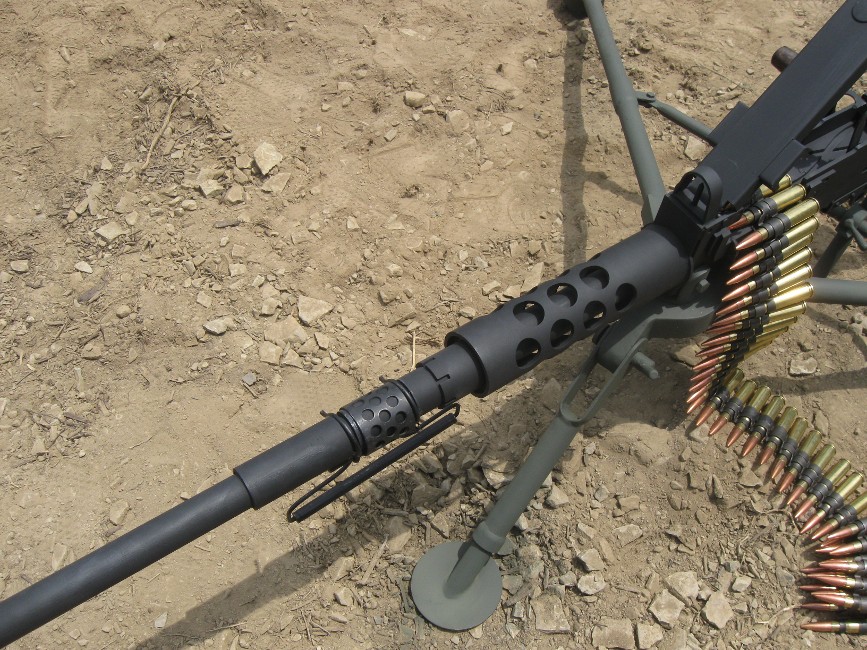 High Level of Detail on the CNC Barrel Support and Barrel Nut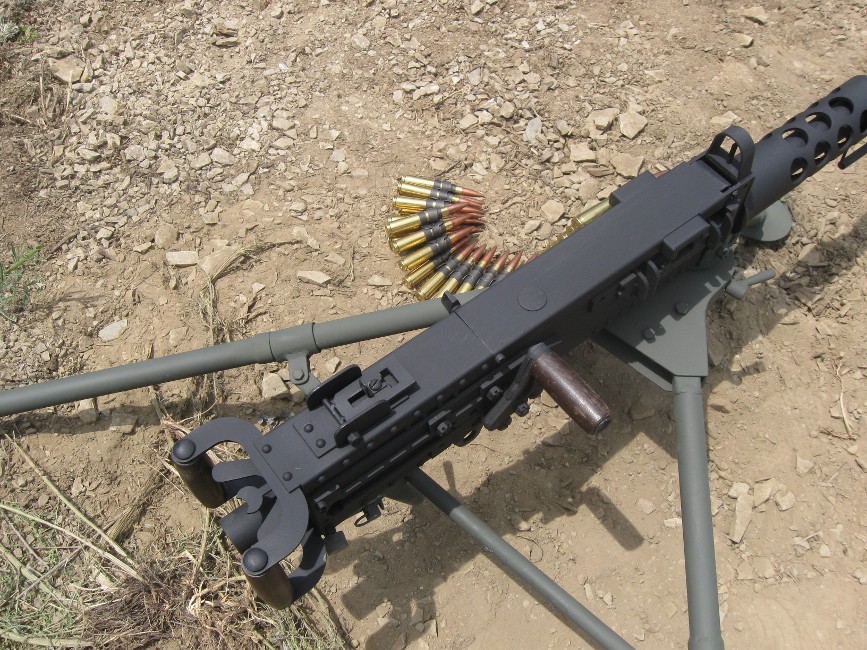 Top view detail of the rear sight folded, with optional peep sight insert, and top cover "Button" option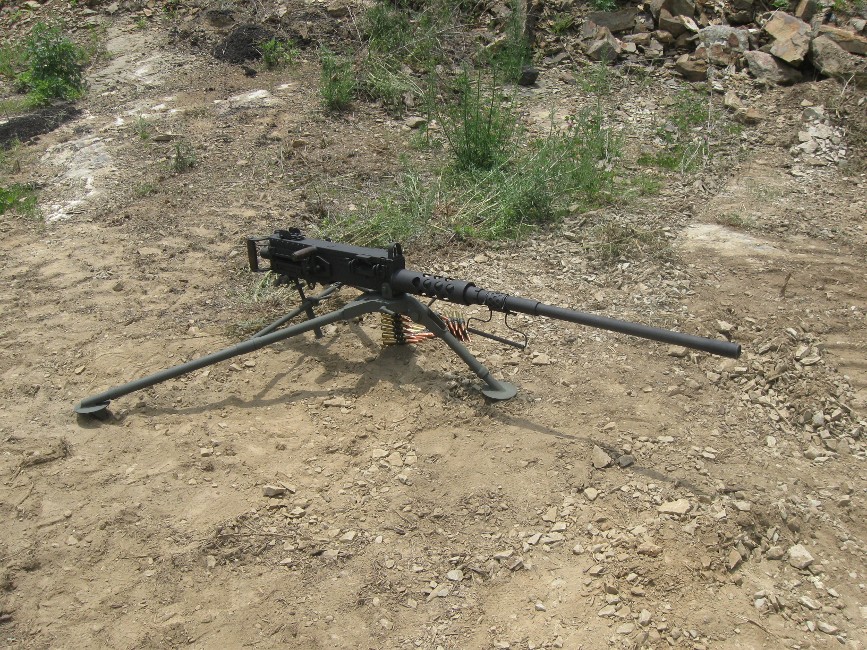 Replica Full Scale folding ALL STEEL M3 Tripod, with T&E is Also Available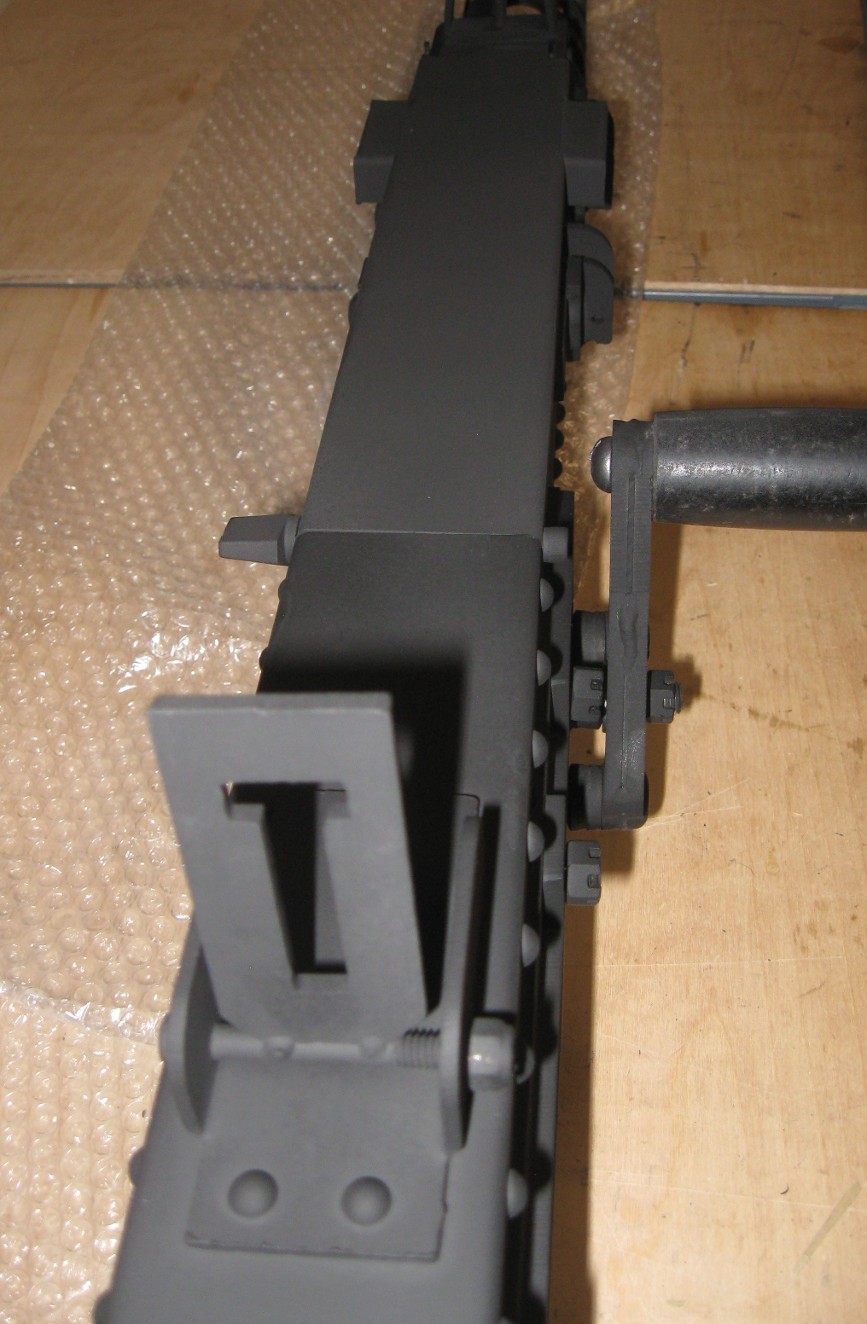 Standard Rear Ladder Sight and Top Cover Sans Button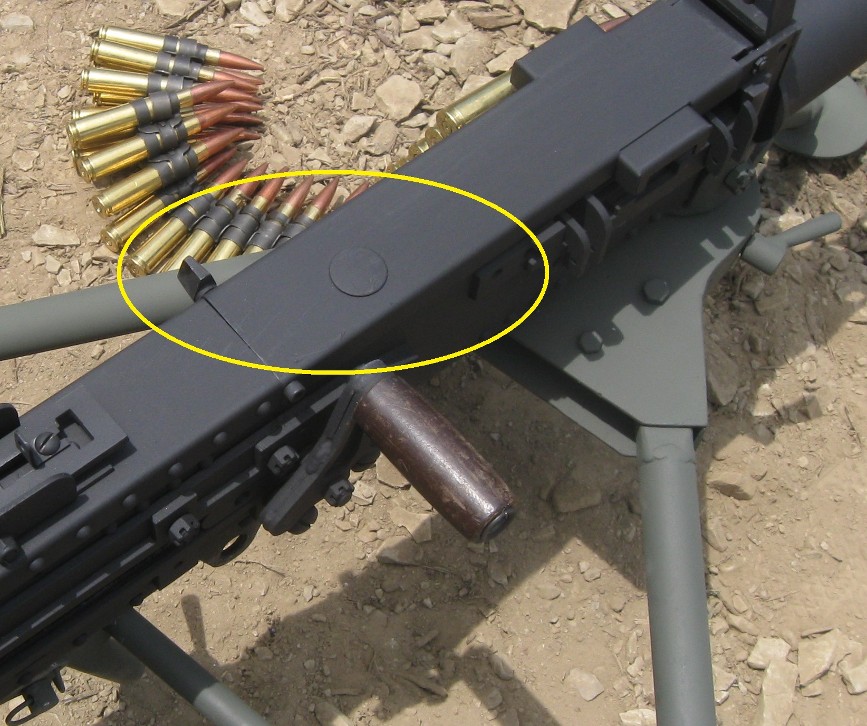 Close Up of the Top Cover Button Option....Not Neccecary, Just a Bit More For the Fella Who Has Everything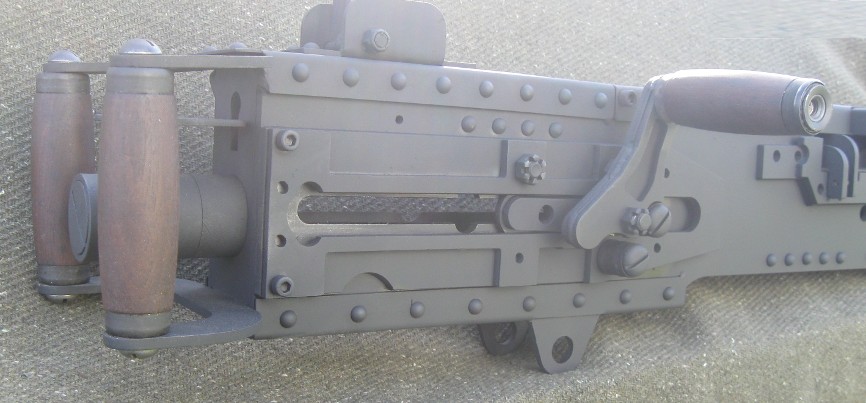 **Optional Genuine WWII Surplus GI American Hardwood Grips....Like the standard surplus bakelite grips, these 70 year old spade handles will have minor nicks, and scratches that only enhance the realism of this already awesome replica. Limited Quantities.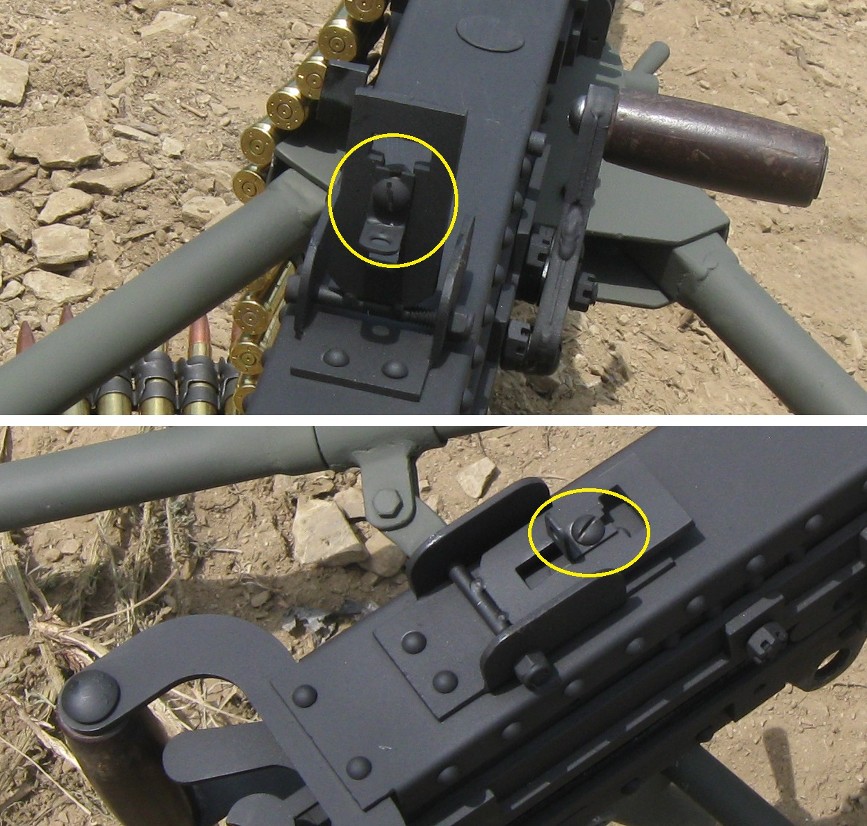 *OPTIONAL: Rear Sight Peep Insert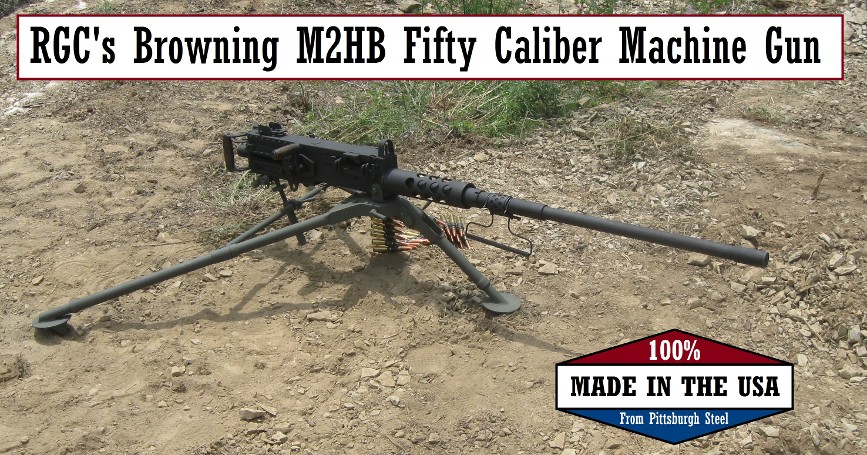 ...And Yes, Boy's and Girls, It's 100% MADE IN THE U.S.A.

RGC's M2 Reciever "Centerfold" View

YOUTUBE SLIDE SHOW OF PROTOTYPE G!....Have YouTube on Your TV?........View the Pics on your big screen!